2020 New year's Kick-off Meeting to be Held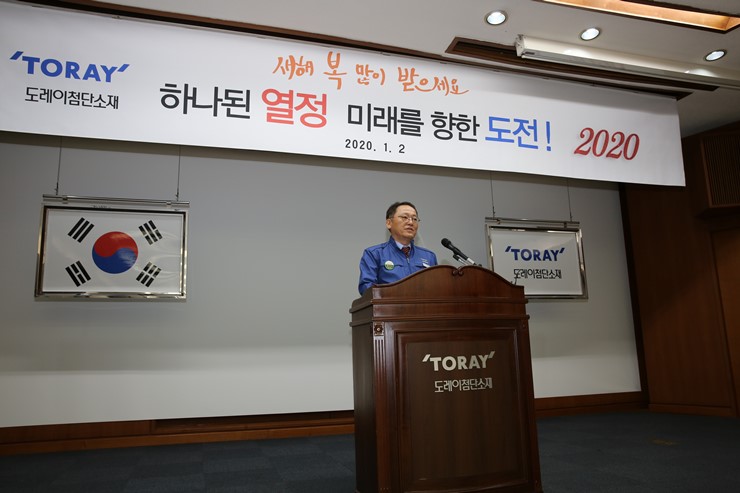 Toray Advanced Materials Korea Inc. held a new year's kick-off meeting in Gumi on Jan. 2 to mark 2020 and in Seoul on Thursday to mark the start of a hopeful New Year.

Following the New Year's greetings between executives and employees, President Jeon Hae-sang decided in his New Year's address that this year, the first year of Vision 2030, will be a year to grow into a top-notch company through enhanced capabilities for a new leap forward.

President Jeon Hae-sang said, "I predict that this year's global and Korean economy will be a time of rapid change where various risks will develop," adding, "To counter this, all our executives and employees will strive with the cleverness and agility of young white mice to create a great 2020 that will mark the origin of a new leap forward."

Following his New Year's address, Chairman Lee Young-kwan said, "Small thoughts change behavior, personality and habits to determine their fate," adding, "Let's make efforts to achieve the company's future goals together through active and positive thoughts in everything." In addition, Kataoka's vice chairman called for the need to be active in rapidly changing social changes, while Im Hee-seok, the CEO, called for technical and managerial responses to the fourth revolution based on big data and climate environmental issues.

The executives and employees greeted each other, shouted "Fighting" in a strong voice, and shared their wish for a happy new year in 2020 when the company and all of its employees will grow up together and produce meaningful results.