HR System
Our HR system ensures that
every employee is treated fairly and reasonably
based on their performance and competency.
We built an environment where each of our employees is evaluated fairly based on their performance and competency, and provided with an opportunity for personal growth. With a belief that human resource is an asset, we have implemented policies and system to enhance expertise, competency and market value of individuals and thereby improve our competitiveness.
Hierarchical system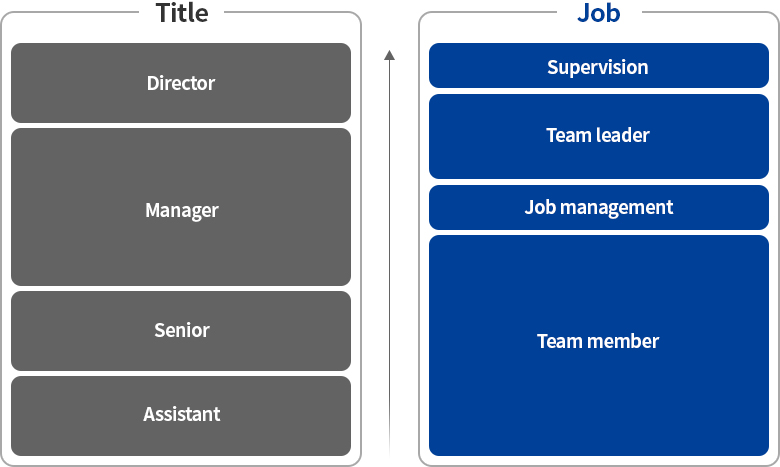 Pay (wage) system
In line with our healthy organizational culture, our flexible rewarding system and fair performance management system effectively work together to make sure that individuals are truly empowered and go for higher goal.
Reasonable rewarding system boosts employee engagement, encourages their commitment and effort toward the common goal for our shared growth.
Monthly wage
Base pay +
competency based pay +
role based pay + allowance
Bonus
Holiday bonus
(lunar New Year and Korean thanksgiving)
Incentive
Productivity Incentive (PI) +
Profit Sharing (PS) depending on
business performance and
profit goals achieved
Welfare benefits
We have carefully crafted welfare program to fulfill the needs of individual employees and their family for their valuable lives.
Health management

Medical expense subsidy
Full medical examination​
Stabilization of livelihood

Personal pension, group insurance
Family and childcare support

Children's educational expenses,
congratulations and condolence leave Daycare center
Hobby, leisure and culture

Hotels and condominiums
Fitness Center, programs with families
Housing and financial support​

Home loan and interest support
Dormitories and company housing support (plants)
Self-development​

Foreign language education expense support
Online and offline job training support