Donation of Health Masks to Gangseo-gu Office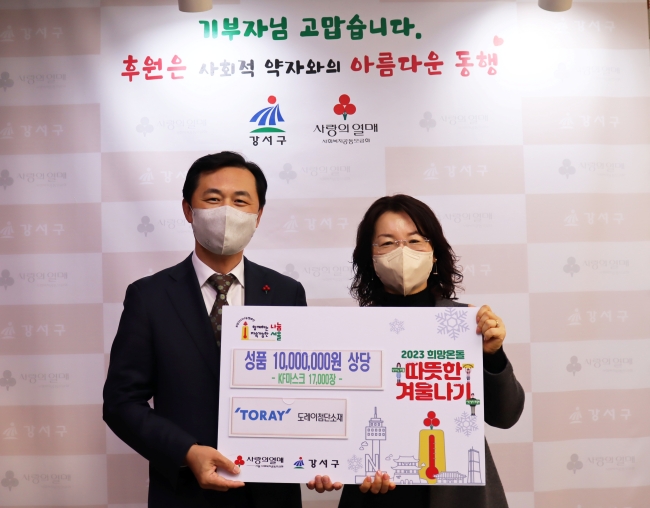 Toray Advanced Materials Korea delivered 17,000 health masks (worth 10million won) to Gangseo-gu Office on the 7th to prevent COVID-19.
The masks delivered this time will be distributed to welfare facilities for the disabled in the region and low-income families that continuously need masks in preparation for the recurrence of COVID-19 in winter.
President Hae-sang Jeon said, "Recently, respiratory patients such as COVID-19 and flu continue to occur," adding that "I hope wearing a mask will help you in your safe and healthy daily life."
Since 2020, Toray Advanced Materials Korea has been making efforts to overcome infectious diseases with the local community by donating sanitary products such as health masks, antibacterial wipes, and hand sanitizers to Gangseo-gu, where the Korea Toray R&D Center is located.
Toray Advanced Materials Korea contributed to stabilizing the supply and demand of masks by mass supply of MB(Melt-Blown) filters, a key material for masks in the early stages of COVID-19, and is striving to increase hygiene and convenience by developing color nonwoven fabrics and lint-improving nonwoven fabrics for masks.