6th KTSF Awards Ceremony : Sharing the research results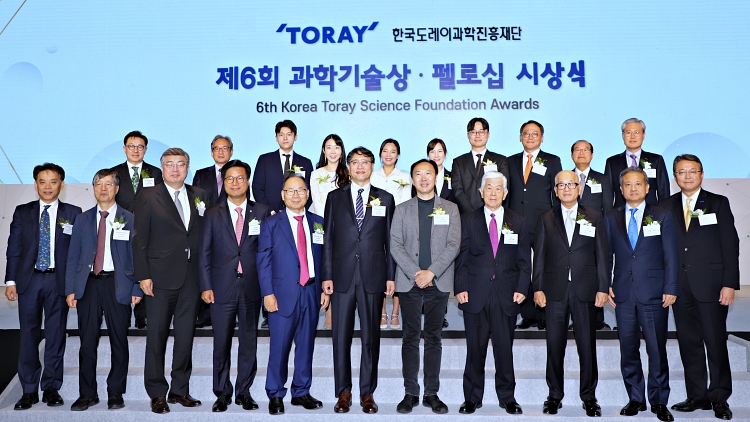 Korea Toray Science Foundation (Chairman Lee Young-gwan) held the 6th Korea Toray Science and Technology (KTSF)Awards Ceremony and Symposium at the Federation of Korean Industries Conference Center on October 25.
Ceremony was attended by about 170 people including the winners, academic and industrial figures and students and the Science and Technology Award were awarded to Professor Jang young-tae of POSTECH and Professor Moon Joo-ho of Yonsei University, each receiving prize of 100 million won.
In addition, the fellowship was awarded to Professor Kim Doo-ri of Hanyang University, Professor Kim Hyun-woo of POSTECH, Professor Koo Gang-hee of UNIST, Professor Kim Yeon-soo of POSTECH, and Professor Ryu Jae-gun of Sogang University, and they will receive research funding of 50 million won for three years.
In particular, an academic symposium was also held at this award ceremony, where six winners of science and technology awards and fellowships over the past five years present and exchange research results in the basic and applied fields of chemistry and materials, including distinguished Professor Jang Seok-bok of KAIST and Professor Cho gil-won of POSTECH.
Academic figures and students who attended said that it was meaningful time to discuss issues in depth through sharing the research results of the awardees, and expressed their intention for technological development in the future.
This year marks the 6th anniversary of the foundation of the KTSF, which was established for the development of basic science in Korea based on the corporate philosophy of "contributing to society through creative management."
Korea Toray Science Foundation (KTSF) has awarded 12 science and technology awards and 25 fellowships so far this year, and has provided scholarships to approximately 170 college students in science and engineering fields.