Awarded the Grand Prize in Midsize Business at the 2020 Gyeongsangbuk-do Quality Group Competition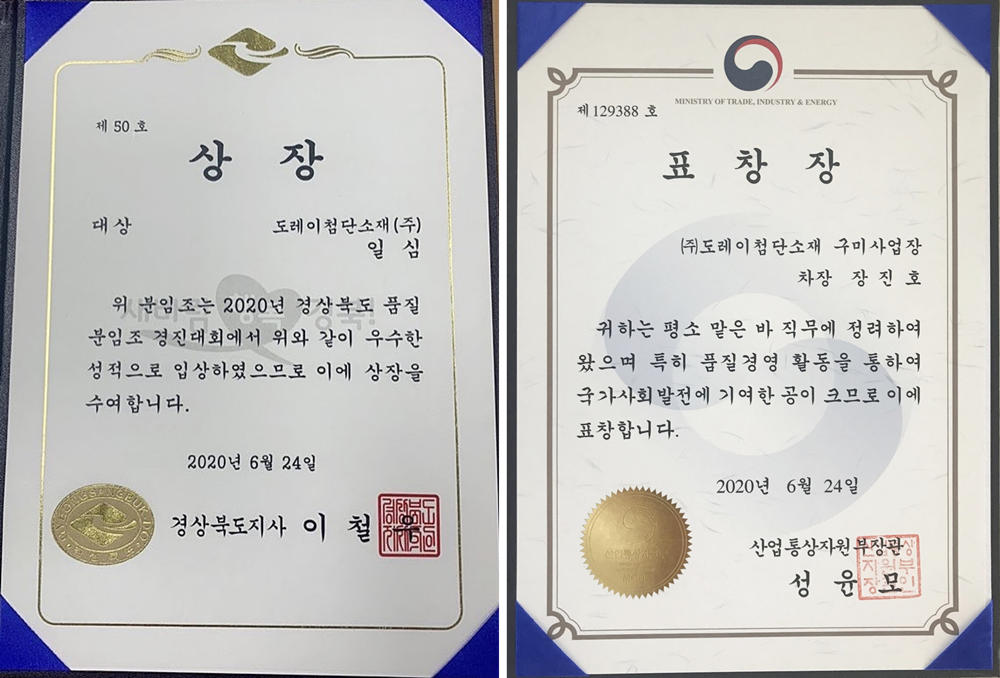 At the "2020 Gyeongsangbuk-do Quality Group Competition" held at The K Hotel in Gyeongju on the 24th of June, TAK's Ilsim Group won the grand prize in the mid-sized company category, and Jang Jin-ho, the manager of the management innovation team, awarded the Minister of Trade, Industry and Energy's commendation for his contribution to on-site innovation and vitalizing quality management.

Hosted by Gyeongsangbuk-do Province and organized by the Daegu-Gyeongbuk Regional Headquarters of the Korea Standards Association, the competition is to announce excellent cases of improvement such as autonomous quality innovation and on-site improvement of companies. This year, 19 teams from 13 companies participated in eight categories, including site improvement and office overhead.

Our company's Ilsim group participated in the field improvement section under the theme of 'Reducing Non-Compliance Rate through Improving Non-woven Fabric Process'. This was based on the high incidence of nonconforming products in the process during the survey of the quality performance of products produced at domestic workplaces, and was recognized for their great contribution to the improvement of nonconforming product rates through the improvement of foreign body improvement activities and cooling methods.

The members of the team, who received the award, thanked their colleagues for their hard work and the company for providing both material and support, and expressed their determination not to stop making efforts to improve the field by actively utilizing the know-how gained through the event.

Meanwhile, the contest was broadcast online without audience to prevent the spread of Corona 19. In addition, the 13 teams that won the Grand Prize will participate in the 46th National Quality Group Competition in Exco, Daegu, in August this year.